Once the town of Deal boasted no less than 3 lifeboats. Now, only the Walmer lifeboat remains. The pictures below show the Charles Dibdin (Civil Service 32) in the early 1960s. The pictures on the right show the present-day high-speed inshore boats. Cover for the Goodwin Sands and beyond is now provided by boats from Dover and Ramsgate.
---

On the stocks

View up the slipway from the sea

A sturdy chain holds her ready to launch
Pictures above courtesy of Mr Bill Howard, late of North Deal.
---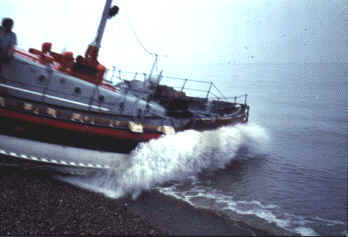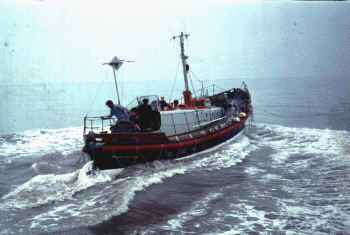 On Patrol

Beached

The Deal Regatta Queen and her Princesses take a ride

Rescue demonstration
These photographs of the modern fast, semi-rigid, inflatable craft were taken during an evening display for Regatta Week '99
Out with the old and in with the new - a pictorial memory of the passing of the "Hampshire Rose" from Walmer in 1990.
The pictures on the left show the last of the old-style boats being launched from the beach.
---
The Royal National Lifeboat Institution (RNLI) is a voluntary organisation funded by donations from the public. It saves the lives of may hundreds of people every year; not only sailors, but holidaymakers who get into trouble on, or in, the sea.
You never know when you might need their help, so please support them whenever and however you can.
For more information about the work of the organisation, their vessels and the locations of the lifeboat stations around the UK, visit the RNLI web site at http://www.rnli.org.uk.