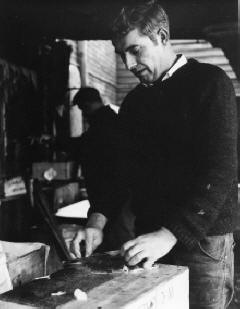 George Foster worked for the Smiths for many years in their fish business.
Prior to that he worked as a diver, doing under-water demolition; he was involved in blowing up the wrecks of the James Errand off Deal Castle and the Denard off Coppin Street.
Frank Preston and "Frenchie" Baker were well-known local boatmen, along with "Doc" Bailey, former owner of the Lady Irene.
---
The Skardon family have been associated with Deal beach for over a century, with three generations of boatmen and fishermen and a long line of vessels including St David, Fairway (formerly Mini Ha Ha - now in Deal Maritime Museum), Mary Ann, Spray R11, a cat boat and the Deal lugger Straight Forward. The family's last boat to be kept on Deal beach was the St Rose.