Snowdown Colliery
We are deeply indebted to George Garrity of Aylesham for the notes on these photographs, and to Geoff Pinfold for permission to reproduce the underground photos of Snowdown Colliery on this page.
Work commenced on Snowdown Colliery in 1908. The first coal was brought to the surface on 19th November 1912. The mine workings stood alongside the main-line railway from Dover to Canterbury near the hamlet of Ackholt (between the villages of Womenswold and Nonnington). A new town - Aylesham - was built to provide homes for the many migrant workers from Wales and the North-East of England.
"The Snowdown Colliery, which received its designation from a place name, is alongside the L.C. and D.R. main line, near the Fredville boring. Coal having been struck in that boring in December, 1896, preparations were at once commenced for opening this colliery, the first sod of which was cut by Mrs. Plumptre on the 28th February, 1907. Two shafts are being put down by the Foncage Syndicate, under the management of Mr. H. P. Nicholson, M.E." (J.B.J. 1907)
Work started on the excavations for the new town in September 1926. The first part of the town was to comprise 400 dwellings, half built of brick in the traditional way, the other half of steel and concrete. Work started during the national miners' strike although, according to the Dover Express for the last week in September, 209 miners at Snowdown had returned to work that week and had produced 60 tons of coal in one shift. Workers at the other Kent pits were still on strike.
Bricklayers and other building workers from as far afield as Dover would walk to the colliery every day, doing a full day's work on site before walking home again. If the weather was bad and they could not work, they would not be paid.
The colliery finally closed in 1986. Just a few derelict buildings remain as a reminder of its busy past.

This picture shows the Koepe winding house (No 2 shaft) to the left of the frame with the old Electrical workshop to the forefront. To the right from the left, the Lamp-room, Power house (substation and second d.c. winding house, No 3) and Rescue and Control rooms.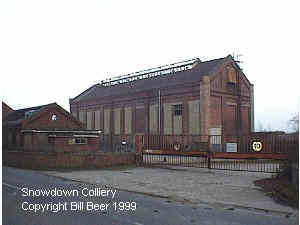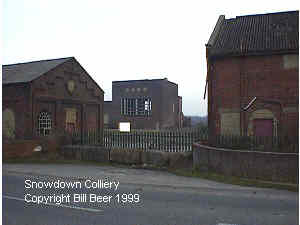 The picture on the left shows the "Power House" and, to the left, the Surveying and Engineering offices.
The right-hand picture shows the "Koepe" Winding house (centre) and Administrative buildings.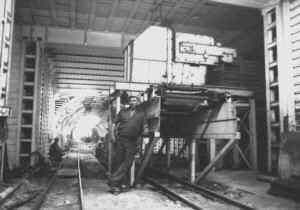 The "Loader End", to have been used to transfer coal from the new No11 seam from conveyor to mine cars "Tubs" had the development been successful (photo courtesy of Geoff Pinfold).

A "German Junction" near the Nos. 2 & 3 shaft bottom at Snowdown colliery. The roadway to the left leads to the shaft bottom (about 150mtr in the distance). To the right an "English
Electric Battery Loco" possibly hauling mine cars from the South East Flats.
Back to mining page