PICTURES
pictures


Modern West Street runs from Queen Street in the south to the junction with Western Road, just north of St. Andrew's Church. The buildings at the southern end, from Queen Street to Stanhope Road, have largely been demolished, but much of the remainder is still intact.

The southern end was originally known as South Sandy Lane and the northern end, North Sandy Lane.
This page contains pictures of West Street from its junction with Stanhope Road to St. Andrew's Church.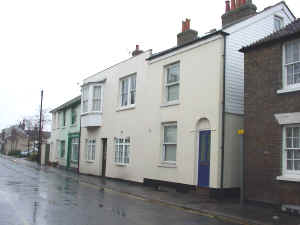 The picture on the left shows a section of the east side of West Street between St George's Road and Union Road. The cottages between nos. 61 and 85 have disappeared, the area being now occupied by the West Street car park (left of the picture by telegraph pole).

A contact in Canada recalled living at no. 53 after WW2. He remembers West Street Motors, immediately opposite, the Locomotive Tavern a few doors down at nos. 104 and 106 and The Alma. These were all in the row shown in the picture below.
Every year, the Alma public house on the corner of West Street and Union Road comes high on the list of winners in the "Deal in Bloom" competition.

This year, the magnificent display was echoed by the cottages to the south of the pub echoed the theme with displays of their own, spreading the colour for some way down the street.

At Christmas, the pub is decorated with lights, trees, reindeer with sleighs and life-size Father Christmas figures climbing the walls.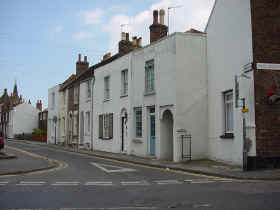 Opposite the Alma, Union Road continues through to the High Street. One of the twin spires of the Landmark Centre can be seen over the roofs on the left of the picture (above). On the opposite corner, just out of view, is Trinity Church.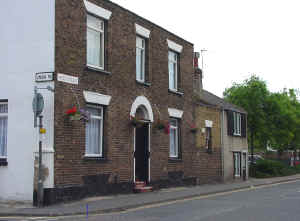 The picture on the left is looking south from Union Road towards the car park. The tiny cottage at the end of the row would once have consisted of two rooms on each floor - a kitchen and parlour downstairs and 2 bedrooms upstairs - with the staircase going up the centre from right to left. To our knowledge, there have been families with up to 5 children living there in the years before WW2.

The floor inside the cottage is about 2 feet below the level of the road, showing the original level of Sandy Lane when the cottage was built about 200 years ago.