PICTURES
St Leonard's Church
St Leonard's Church
Old view of London Road


Upper Deal, the southern-most part of the town, is furthest from the sea, and was probably the highest inhabited part of the town (although only a few feet above sea level).

St Leonard's Church
St. Leonard's is the parish church of Deal. For centuries, before the building of St. George's Church in the town centre, it was the only church in the town.
The church stands on a rise at the junction of Rectory Road, Manor Road and London Road, surrounded by trees, which make photographs difficult to get. When we can get a better picture, we will replace these!

St Leonard's Church
The church is brick-built, with a tower topped by a cupola. The main part of the churchyard is separated from the church by Manor Road. Like so many English churchyards, most of the memorials have been removed from the graves and stacked around the walls.
The town of Deal grew up around the church and the manor house as a farming community.

It was not until the sea gradually built up a shingle bar and allowed the coastal marshes to dry out that people started to migrate towards the coast and fishing became the main occupation.

Gradually, a new town grew around the fishing grounds. Later, the Naval Dockyard increased the town's dependence on the sea.

Upper Deal today is linked to Sholden, Mill Hill and Mongeham and forms the southern part of the town.
---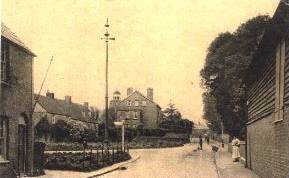 The photograph above was sent to me by Charlie Hooker in Australia, whose father was born in one of the cottages to the left of the picture. It was taken from the end of Middle Deal Road near the junction with London Road, looking south towards St Leonard's church.
The top of the church tower can be seen over the roof of the house in the centre. The view has changed little today, except that the cottages are obscured by trees.