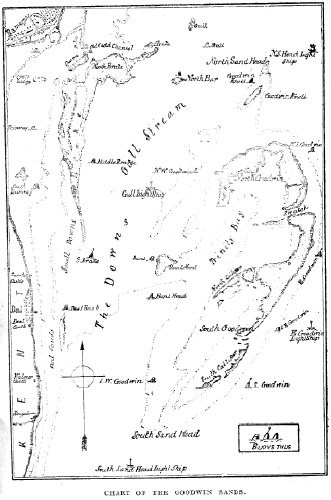 Click on the picture (above) for a larger view (0.5MB file)
"Straight out seawards and eastwards of the old quaint town of Deal lie the Goodwin Sands, basking in the sun like some marine monster whose giant snout is just awash towards the north, and only now and then emerges out of the sea to sieze with hungry jaws its prey of men and ships, with huge feelers and claws reaching from its broad waist landwards towards Deal, while the tail of this grisly terror coils itself away to the southward, full many a mile of sea." (Treanor)

The Goodwin Sands lie about 6 miles off the east coast of Kent, between Kingsdown in the south and Ramsgate in the north, a distance of over 10 miles from South Sand Head to North Sand Head, and are about 31/2 miles in breadth from Bunt Head in the east to the Barrier Edge in the west.

"If there are many places far more celebrated, it is quite certain that there are few more dreaded by all those 'who go down to the sea in ships, and occupy their business in great waters,' than the famous Goodwin Sands." (Gattie)

Known as the "shyppe swallower" because of their well-deserved reputation for "swallowing up" many hundreds of ships, driven onto the sands in rough weather over the centuries, the Goodwin Sands are also responsible for the (relatively) safe anchorage known as "The Downs".

".. enormous wealth which formed the cargoes of thousands of ships of all nations which have been, during the last eight hundred years, engulfed in these treacherous Sands, and which probably lies buried there still, -

A thousand fearful wrecks,
Wedges of gold, great anchors, heaps of pearl,
Inestimable stores, unvalued jewels,
All scattered on the bottom of the sea!" (Gilmore)
Some historians put forward the theory that the sands were once fertile and habitable and part of the lands of Earl Godwin, councillor and friend of Edward the Confessor, which were overcome by the sea in A.D. 1099.

Others suggest that the sand banks were formed by the action of tides and currents coming together at the mouth of the English Channel.

Whichever theory you believe, the Goodwin Sands have for centuries been feared by sailors of all nations who had occasion to navigate the Straits of Dover between the North Sea (sometimes called the German Sea) and the English Channel (called by the French La Manche - the Sleeve).

At low tide, a large part of the Sands is uncovered and becomes firm and dry. Rev. Mackenzie Walcott, in a work on the "Coast of Kent", described them thus:

"At low tides a walk along these melancholy dunes, when the channel is bare of ships and presents only a boundless expanse, will inspire solemn thought, reverent awe, and silent devotion; the voiceless lips of the shells which the foot buries tell of mighty changes and centuries gone by. All is still as beneath the roof of a cathedral, and the breeze grows mellowed, softer, sadder, as it mingles with the fall of the breakers."

Rev. John Gilmore referred to the numerous souls lost on the Sands:

"when the graves give up their dead few churchyards will render such an account as theirs, not only as to the number of the dead, but also that the Sands are a battlefield which entombs the brave and the strong, who go down quick to their grave, quick from the full tide of life and strength, from the eager, stern, deadly contest which, to the last, all their strong energies are fully engaged."

Pictures and quotations on this section of the site are taken from:
The Cry From the Sea and the answer from the shore

by Rev Thomas Stanley Treanor

published by The Religious Tract Society, London, c.1900

---

Memorials of the Goodwin Sands and their surroundings, legendary and historical. With maps, charts, and illustrations

by George Byng Gattie, late H.M.'s Civil Service

The "Kelkel" Edition

published by J. J. Keliher & Co., Ltd., London, 1904

---

Storm Warriors; or, Lifeboat Work on the Goodwin Sands

by Rev. John Gilmore, late Vicar of Holy Trinity, Ramsgate

published in London, 1874